30th Sep 2015
AIMSSEC delivers the MT24 course to 134 teachers
AIMSSEC delivers the MT24 course to 134 teachers
AIMSSEC held a successful Mathematical Thinking residential course from 29 June to 8 July 2015 at Stellenbosch High School for teachers from as far as Limpopo, Eastern Cape and KZN provinces, all eager to learn!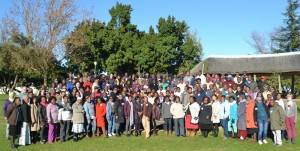 The teachers were excited to work alongside the local and international team as well as our alumni who served as outstanding role models and a true inspiration to all.   Mpumi Kolisile and Sagree Pillay returned to the course as lecturers while Zikona Ntlontli, Andiswa Mpuhlu, Mondli Mkhwana, Stephen Basvi, Cecelia Perring and Hermie Kraak returned as teaching assistants. Participating in the course provides our alumni with professional development opportunities and at the same time growing the AIMSSEC teacher training network.
Teachers were shown how to deliver learner-centred practical activities in their mathematics lessons.  Below is an example of a hands-on learning activity with the teachers. When teachers acquire skills to deliver learner – centred activities, they find it easy to teach their learners at school as shown in the pictures below.