14th Jan 2013
Maths Clown Climbs Mt Kilimanjaro for AIMSSEC
Bubblz The Maths Clown climbed the 5,895 metre Mt Kilimanjaro  on 27 January 2013 to raise funds for AIMSSEC making history as the first clown to climb Africa's highest peak.
This was a big challenge as Bubblz (aka Caroline Ainslie) had to contend with extreme cold and lack of oxygen due to the altitude.
One person was so struck by the unique expedition that he sent her an anonymous cheque for £1,500 just for the journey to Kenya. When I got that message,  I decided I have to do this said Caroline, who has now raised enough money for the trip to Kenya and is devoting the next three months to raising ZAR280 000 (GBP £20,000) for the AIMSSEC.
I definitely feel fear, said Caroline. I've heard that every step is painful once you get up there. But I was told that the anonymous donor wanted me to dress up as a clown because he or she thought it would make a difference to the other people doing the climb. Clowns can be very therapeutic and thats what its about. Bubbles is very strong!"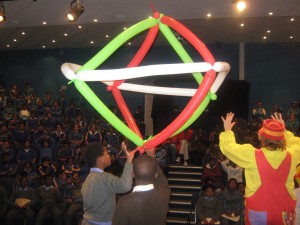 Bubblz The Maths Clown teaches maths with metre long balloons and soap bubbles.
In the photo , three squares make up the octahedron and show the planes of symmetry. Teachers are given follow-up packs of lesson materials so that they can build on the motivation from the Bubblz show.
Penny Lumley who managed Bubblz' 2012 SA tour is training a team of South African Maths clowns. Bubblz taught her special lessons and ran workshops for teachers at the Cape Town Science Centre, at nursery schools in Masiphumelele and Ocean View,  at Oranjekloof Primary School in Hout Bay, at Luzuko Primary School Gugulehu, at Masiphumelele Primary School in  Khayelitsha and at St Joseph's School for chronically ill children.
Ronell Petersen from St Joseph's wrote: This was indeed one of the highlights of the year. The children, and staff alike, had a wonderfully enjoyable time, and the children could not stop talking about this special visit. Some of the little ones already asked when the next show would be!