9th Feb 2015
AIMSSEC 23rd Mathematical Thinking Course
From the 4th to 14th January 2015, AIMSSEC delivered its twenty-third Mathematical Thinking course at Stellenbosch High School. Teachers of all phases came from across South Africa to enhance their professional profile by participating in this SACE-accredited course which aims to raise standards in the classroom and helps teachers to access more rapid promotion.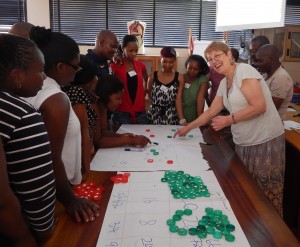 The attending teachers took part in a variety of sessions including IT, planning for learning, geometry, trigonometry, number, data handling and probability. The AIMSSEC philosophy underpinned all sessions, emphasising the need to go beyond usual teaching methods to ensure that learners truly learn and understand in the classroom, rather than merely memorising facts and routines. Beyond this, the teachers were offered other powerful experiences such as a motivational talk, a games evening and a seminar exploring issues arising from the use of different languages in mathematics lessons.
Joining the AIMSSEC local team on the course were international lecturers Julia and Bob Anghileri, Cynthia Fries and Jenny Gage, and teaching assistants Hermie Kraak, Mpumi Kolisile and Steven Basvi. The staff worked hard as a collective to plan and deliver sessions in a professional manner, in addition to fulfilling their roles as personal tutors, so as to ensure that the attending teachers could make the most of their ten-day opportunity.