3rd Oct 2013
AIMSSEC broadcasting from Stellenbosch
On Saturday September 14, AIMSSEC ran telematic sessions from Stellenbosch University for 67 teachers on the ACE course. A telematic session is a live broadcast, recorded in a state of the art studio which can be viewed by participating teachers at special centres.
The teachers are invited to attend one of these five specialist centres, set up to receive the broadcast, where they can participate with fellow teachers. Facilitators, most of which are ACE graduates, are present at each centre to make sure the day runs smoothly. The centres are located in East London, Cradock, Port Elizabeth, Mthatha and Queenstown.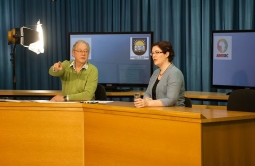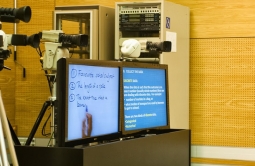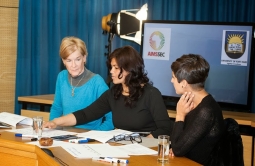 These broadcasts were for first year students on the Advanced Certificate of Education (ACE) program and lasted the whole day. The teachers were split according to the phase they teach and the sessions focused on data handling and probability, with the main aim being revision in preparation for the exams at the end of the year.
AIMSSEC's lecturers use a combination of PowerPoint presentations, mathematics software, white boards and props to deliver the content in a creative and dynamic way. The sessions are also interactive since all participating teachers are able to SMS questions and comments during the live broadcast.
But beyond purely revision, these telematic sessions have many other benefits for AIMSSEC the teachers involved. It is an opportunity for the AIMSSEC staff to interact with all the teachers at once despite the huge distances between them. It is also a chance for the teachers to meet the other teachers on the course, to share ideas and to know that they are not studying in isolation.
On September 21, AIMSSEC will run a similar session for the second year ACE students.
AIMSSEC wishes to thank it's lecturers, facilitators and the teachers who gave up their Saturday to be there! Also to the very helpful staff at Stellenbosch University for running the recording in the studio.