2nd Oct 2013
AIMSSEC celebrates 10 years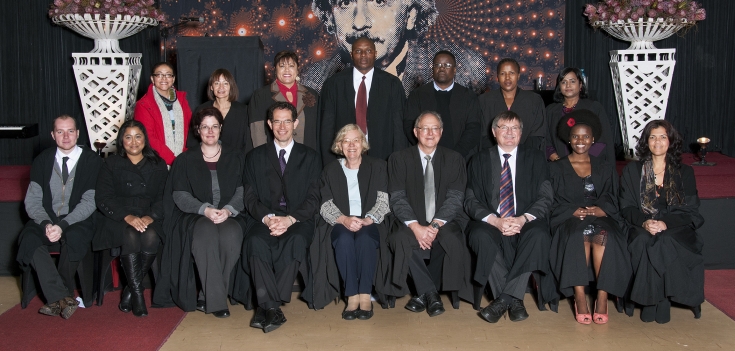 Above, the AIMSSEC staff with the award winners.
AIMSSEC joined AIMS in celebrating their 10 year anniversary at a special graduation ceremony held on 26 June, 2013 at the Muizenberg Pavilion in Cape Town. 49 AIMS students from 21 African countries were awarded a masters in Mathematical Sciences meaning 470 students have now graduated from AIMS.
AIMSSEC, also celebrating it's 10th year, was delighted to be a part of the graduation. Six graduates of the AIMSSEC ACE course: Miss Thelma van Vught, Miss Nompumelelo Maqholo, Mrs Cecilia Perring, Mr Mhlangabezi Gcali, Mr Clinton Mthi and Ms Sagree Pillay were invited to attend the ceremony and were awarded certificates as outstanding AIMSSEC graduates.
Ms Sagree Pillay also made a very moving speech about her experiences with AIMSSEC and ended with "Thank you AIMS and AIMSSEC for lighting the flame in us".