23rd Jan 2015
AIMSSEC gets SACE endorsement for MT Course
Mathematical Thinking And Problem Solving And Technology In Teaching and Learning Mathematics
Endorsed by SACE: 15 PD Points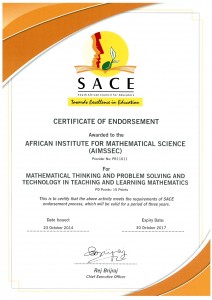 AIMSSEC has recently been approved by SACE (South African Council for Educators) as a service provider (Provider Number: PR11011) to offer the Mathematical Thinking Course to practising teachers. Professional Development is part of SACE's Code of Professional Ethics for educators; since all teachers commit themselves to upholding the code, professional development is not an option but an obligation for all teachers.
The Mathematical Thinking and Problem Solving and Technology in Teaching and Learning Mathematics is a residential course; conducted during school holidays, for mathematics teachers of grades 4 to 12, field trainers, facilitators or educators who support mathematics teaching in historically disadvantaged communities. The Mathematical Thinking Course is designed to empower teachers so that they can become proficient in using technology for teaching and they learn and teach mathematics effectively through:
practical activities,
problem solving,
groupwork and
discussion
Teachers are also coached on how to produce cost effective teaching materials for use in their mathematics classrooms. A merit certificate is awarded to those who satisfactorily complete the course, implement what they have learnt in their own classrooms for three months and submit a written report. Teachers who do well in this preliminary course could be selected for enrolment for a two year part time AIMSSEC (ACT) Advanced Certificate in Teaching course to Train Subject Leaders in Mathematics, an NQF level 6 qualification.
For more information on AIMSSEC's next MT Course intake, please contact us:
Dr Barrie Barnad
The Academic Manager
Phone 0217879326
Email: info@aimssec.ac.za
www.aimssec.aims.ac.za