3rd Oct 2013
AIMSSEC present workshops at International Maths Conference in Kenya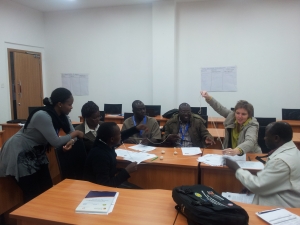 From 12 to 16 June AIMSSEC's Claire Blackman, Danny Parsons & Rejoyce Gavhi attended the Second Strathmore International Mathematics
Conference in Nairobi, Kenya. They delivered two workshops in the Mathematics Education section of the conference to teachers and academics. The two workshops were titled: "Teachers as learners with other teachers" and "Starting with a problem, not a technique". The first workshop
introduced AIMSSEC's 'Do-it-yourself' workshops, a set of workshops designed to allow teachers to work as a group learning mathematics that focuses on enquires based learning and practical activities that can be used directly in their classrooms. The material is currently available online and AIMSSEC is in the process of getting this material published in a book series to be made available at subsidised prices in developing countries. The second workshop introduced AIMSSEC's Aiming High Teacher Network, an online community of teachers that allows for the sharing of ideas and resources and collaborative learning. AIMSSEC made
good links with a number of teachers and academics from East Africa who were interested further in the work of AIMS and AIMSSEC.