3rd Oct 2013
GeoGebra Conference at the Nelson Mandela Metropolitan University
AIMSSEC's Academic Director Barrie Barnard attended a GeoGebra Conference at the Nelson Mandela Metropolitan University in  Port Elizabeth from 20 – 21 September.
GeoGebra is a free, open-source dynamic mathematics software joining geometry, algebra, calculus and statistics and can be downloaded for free from www.geogebra.org. The latest version boasts 3-D visualisation and offers university level applications.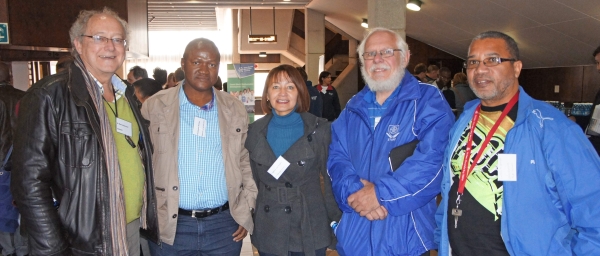 The photo above shows from left to right: Barrie Barnaard; a current AIMSSEC ACE student, Mr Hempe; Ms Thelma van Vught and Mr Clive Biggs, graduates from previous ACE courses and Mr Linton le Grange, a current MT student.
They, like many of our teachers, were introduced to the software package while on the AIMSSEC courses and are now keen to experience more mathematical discovery through dynamic visualisation. Mrs Mavuyo Mbusi also attended the conference, but were not available when the photo was taken.