7th Sep 2012
AIMSSEC awarded the UNESCO-Hamdan Bin Rashid Al-Maktoum Prize
The African Institute for Mathematical Sciences Schools Enrichment Centre (AIMSSEC), together with the Rato Bangala Foundation (Nepal) and the Banco del Libro (Venezuela) were awarded the UNESCO-Hamdan Bin Rashid Al-Maktoum Prize for Outstanding Practice and Performance in Enhancing the Effectiveness of Teachers. The ceremony took place in Dubai on 24 April 2012. Dr Barrie Barnard and Toni Bearden attended the ceremony on behalf of AIMSSEC. Mr Eric Falt the Deputy Director General from UNESCO also attended the ceremony. The South African Embassy in France was represented by Mrs. Linda Shongwe.
The US$270,000 prize money will be divided equally between the three organisations. The prize was set up with funding from Sheikh Hamdan Bin Rashid Al-Maktoum of Dubai in 2009, and is awarded every two years to candidates who have shown outstanding achievement in enhancing the performance and effectiveness of teachers in developing countries within marginalized or disadvantaged communities.
The picture shows Sheikh Hamdan Bin Rashid Al-Maktoum handing over the award to Dr Barrie Barnard (Academic Manager from AIMSSEC).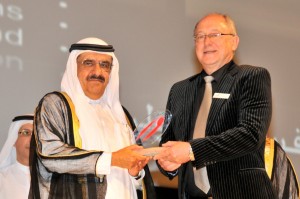 The picture shows all the international prize winners on stage during the ceremony. A further 185 people from UAE received awards during the same ceremony.
After the prize giving ceremony Sheikh Hamdan Bin Rashid Al-Maktoum visited the AIMSSEC exhibition in the foyer of the World Trade Centre in Dubai.